How do you continue your fishing club committee meetings when we're all in lockdown? The answer is online, using video conferencing tools.
Why? Because we wont be locked down for ever and with Fishing being touted as one of the first sports to be made available (fingers crossed), you'll need to make sure you have your house in order before the restrictions are lifted.
Before we kick off, we know that switching to online meetings can be a bit daunting and that the first meeting may take you far beyond your comfort zone.
So our advice is to have some fun with it, try not to take the first meeting too seriously and just aim to get as many of you online as you can. Don't worry if it goes wrong, if you can't hear everyone or that you don't go through everything on the agenda. We promise it will get easier and easier with each meeting.
To help, we've provided some guidance below on how to use a free online tool called Zoom (I am sure you have already heard lots about it!).
There are many other video conferencing options available but we've been using Zoom for years and the basic version of Zoom is free (as long as the meeting lasts less than 40 min – a good reason to cut out the unnecessary chit chat too 😉). And if you are a Clubmate customer, we will also do our best to help get you set up.
Getting started with Zoom
Before you can host a meeting, you will need to create a Zoom account.  As we mentioned, this is free as long as the meeting lasts less than 40 minutes and you have less than 100 participants. To do this, just go to the Zoom website and click on the Sign Up button in the top right. Then follow the prompts.
*only the host needs to create an account, your attendees do not need to create an account.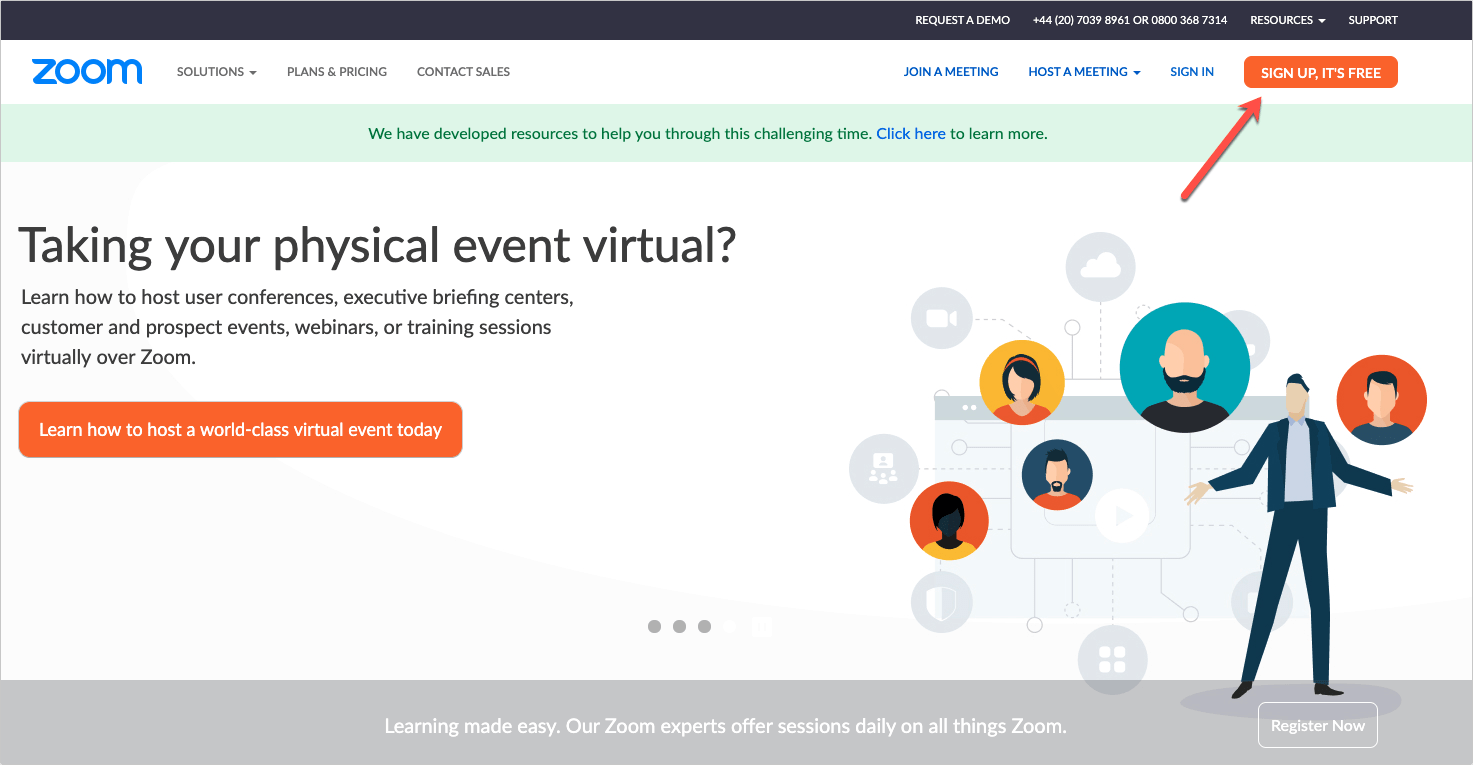 How to Schedule a Meeting – hosts only
Zoom will provide you with guidance on how to get started with their platform but for reference, you can find their Quick Start Guide here.
Step by step
Schedule a meeting – include time/date/duration
This generates a Meeting URL, ID and password
Option to tick and save a recording for use later
Email invites with Zoom meeting details
Click 'Start Meeting' to begin
For more guidance, watch the video below and read Zoom's help article https://support.zoom.us/hc/en-us/articles/201362413-How-Do-I-Schedule-Meetings-
How to Join a Meeting – attendees only
Scheduling a meeting is only half the battle! You'll also need to get your attendees to click on the link and join your meeting.
To help with this, we've broken down the steps below for attendees to follow. There's a useful guide from Zoom also a video from Zoom showing them what to do (perhaps include these in your first email invitation!).
Step by step
Click the Meeting URL in the invitation from the host
Prompt appears to launch Zoom (you may need to download some software for the first meeting)
Test your computer audio/video
Join the meeting
For more guidance, watch the video below and read Zoom's help article https://support.zoom.us/hc/en-us/articles/201362193
Troubleshooting
If you're hosting a Zoom meeting for the first time, we recommend that you set up a test meeting first. Get a couple of people to join the meeting and make sure it all works as you expect it to.
Can they see and hear you ok? Anything not working? Search the Zoom Help Centre for greater support.
The main issues are likely to be audio and video and it's best to get them sorted beforehand, rather than jumping on the Meeting and spending the first 10 mins wondering why nobody is there!
And if you are a Clubmate customer, feel free to use us a test attendee. We'll be happy to help make sure you are set up and ready to go before your first meeting. And if you're not a Clubmate customer yet, why not?!
Lastly, have Fun!
Remember, it is highly unlikely that the first meeting will go as planned so try not to take it too seriously. Have fun with it and experiment, it will become easier and easier the more you use it.