As a result of COVID-19, we're seeing an increasing number of people getting into angling.
At the beginning of March 2021, the Angling Times reported that the EA has invested £48 million into the sport after nearly a million rod licenses were sold over the last year.
With this recent surge, it's an excellent opportunity for fishing clubs across the UK to think about how they can grow; from increasing memberships to acquiring new waters. Focusing your attention on growing your club means you can start to generate some more revenue. This applies to non-profit clubs too – any additional revenue you make can be injected back into your club so that you can continue delighting your members.
So what are the easiest ways to start growing your angling club?
Increasing Revenue
The first step is to think of ways to make more money. This step will apply to all fishing clubs that want to grow their club, even if you're a non-profit organisation. More money means more opportunities to expand. 
Sell more memberships 
The most obvious strategy is to sell more memberships. Start by evaluating the way you currently sell your memberships and see if there are any barriers that might make it harder for anglers to join your fishing club. For example, if the only way for prospects to join is by visiting a tackle shop, the prospect is immediately limited to the shop's opening hours, which may not be convenient for them. Plus, all non-essential retail is temporarily closed in England as a result of the COVID-19 pandemic so it's not currently possible for anglers to visit their local tackle shops.
Then there are paper application forms. A number of angling clubs ask new or renewing members to download a form, print it off and send it to them in the post with a cheque. With the development of technology and the internet over the last twenty years, many people expect to be able to join and pay online – particularly the next generation of anglers. Printing off and filling in paper forms can be a painful process when a great deal of us are used to doing everything online. So, the focus should be on making it as easy and familiar as possible for members to join and renew.
The same principles apply to selling day & guest tickets. The easier you make it for anglers to book & pay, the more tickets you'll sell and the greater return you'll receive.  
A solution is to sell your memberships online as well as in tackle shops or over the phone so that prospects can browse and purchase a membership on their own time. Selling online also means that members can pay by card which is safe, secure and reduces the need to handle cash. We wrote a whole blog post on offering online membership renewals, which you can read here to learn about the other benefits of selling online.
Sell merchandise
If your waters are already at their capacity, another option could be to sell merchandise with your club's logo embroidered on it. Think t-shirts, baseball caps – clothing that your members can buy and wear to show their support. Club clothing is an excellent way to turn your members into evangelists and help generate additional revenue. Every item used, seen and loved is a positive reinforcement of your fishing club.
Your merchandise can also be sold online via a club website, which makes it easy for members to browse and purchase in their own time whilst removing the need for you to chase for payment, writing down everyone's sizes, updating stock levels or finding space to store all the boxes. 
Sponsorships
Another great strategy to help raise awareness of your fishing club is to use sponsorships. Sponsorship involves businesses providing you with resources, funds or services in exchange for an association with your club. As well as helping local organisations, sponsors can gain a commercial advantage by obtaining positive PR and advertising opportunities.
To get a positive return on your sponsorships, it's important to approach the right companies. Think sports companies, local businesses or new startups that might be looking for some exposure of their own. To learn about sponsorships in more detail, you can read our blog post that breaks down how to hook new sponsors for your fishing club.
Fundraising
If you have specific goals in mind, why not ask for some additional support from your members or the wider community? Whether that's through some form of raffle or simply by asking members to add a little extra onto their membership subscription to help support the development of their fishing club. Remember – if you don't ask, you don't get!
*credit to Tom Jehu for the fantastic footage, thanks Tom!
Reinvesting Back Into Your Club
Okay, so you've decided on a plan to start generating more revenue for your fishing club. Next, you need to think about the ways you can reinvest that money back into your club to improve the member experience.
Improving Facilities
This is a pretty vague one, but upgrading the facilities at your fishing club can be a really easy place to start improving the member experience. It could be as simple as litter picking and making sure the paths leading to your waters are free from debris and clearly marked, to building accessible pegs for wheelchair users or constructing a car park. You can start by asking your members for their feedback and ideas of how their experience at your venue can be improved. Tackle the easiest and more affordable options first, then look to implement bigger changes as your membership grows and revenue increases.
Stocking Programmes
A popular way to expand and develop your club (especially with your members!) is to invest in a stocking programme. Stocking improves the fish population of your waters and gives your anglers a little more variety. It also preserves your waters for the next generation of membership.
Acquiring New Waters
Obtaining new waters to add to your fishing club is a more sizeable investment, but it can have a fantastic pay-off. Acquiring new waters will mean that you have more space, therefore you can increase the number of members you have at a given time. Similarly to stocking, it adds some variety to the angler experience. If a member is a little bored of fishing the same waters, they can visit your other site for a different experience.
The Cycle Begins again!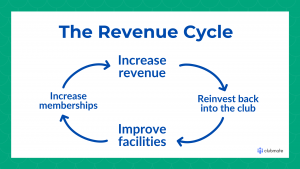 When you've successfully decided how you're going to reinvest into your fishing club, the cycle begins again. By reinvesting and adding value to your club, you'll start to notice an increase in revenue. Then, you can reinvest that revenue into continually growing and expanding your club. Following the revenue cycle is an excellent strategy for any fishing clubs out there that are looking to grow. Even non-profit fishing clubs can benefit from this cycle: growing the club means you can bring in more members and continue to bring the local angling community together.
If you'd like to learn more about how you can start increasing your revenue and growing your fishing club, feel free to get in touch with us. We'd be delighted to talk you through how Clubmate can help!