One of the biggest problems clubs have to deal with is members that share permits with anglers that aren't paying members of the club.
Despite the fact it's only usually a small minority, unauthorised anglers fishing at your venues undermines your membership offering and simply isn't fair for anglers that follow club rules.
It's frustrating for several reasons and quite often feels like you're fighting a losing battle without the right processes in place, so here's how you can prevent anglers from sharing permits with non-members and give your bailiffs the tools they need to verify memberships efficiently.
The problem with traditional membership verification.
The traditional solution to stopping anglers from sharing memberships is usually for bailiffs to check an angler's paper membership. However, that comes with its own issues. Unauthorised anglers can easily give the name of someone that's already a member and borrow their paper membership. If bailiffs aren't familiar with who's who, they'll be none the wiser. That means the unauthorised angler ends up fishing for free – which isn't fair for paying members and ticket holders.
"We get 'lost cards', which come with their own problems; cards get copied, shared, and loaned. Our paper-based membership cards have enabled many people to take the mickey. We're [using Clubmate to] cut down on that, for the good of our honest members." – Royal Forest of Dean Angling Club
Use more than one form of verification.
One easy way to clamp down on unauthorised membership sharing is to identify members through more than one form of verification. For example, instead of only asking for their name and membership, check a photo ID as well. However, not all anglers will have a passport or driving licence or may even say they don't have a photo ID with them to avoid this check. 
Clubmate offers an optional service for fishing clubs in which photo ID cards are printed and shipped directly to your member's doors.
The cards come with your club logo, branding and each one is personalised with your members' details, including photo, name, membership type, membership number and any other relevant membership information. They're the same size as a credit card, perfect for keeping them in your wallet or a lanyard. They're waterproof too, so members can no longer blame the weather for not carrying their proof of membership with them!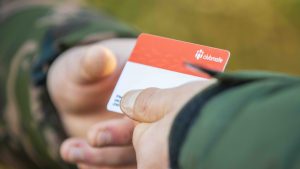 Identify anglers in real-time using the bailiff app
Verification can be a headache for bailiffs, so consider investing in fishing club management software that allows anglers to upload a photo to an online profile. Bailiffs can easily check the photo on the account against the person standing in front of them on the bank using Clubmate's Bailiff app. 
Photos can also be made mandatory, meaning a member has to provide one in order to purchase a membership. The same is possible for your day ticket anglers too, giving you the tools to identify every angler fishing at your venues!
There will be a small number of anglers that don't want to join online, but you can still use the above two-step verification methods in the form of photo ID cards. Cash or cheque-paying members can be added manually, bailiffs can take the angler's photo whilst on the bank during their first visit and add it to their membership profile.
To summarise, trying to stop anglers from sharing their membership can feel like a losing battle when you don't have the right tools. Using a two-step verification process is the simplest way to check that only verified anglers are fishing at your venues; for both anglers and bailiffs alike. 
If you're searching for a more efficient way to operate, look no further than Clubmate. We help hundreds of fishing clubs, fisheries and syndicates say goodbye to unnecessary admin, take payments with ease and manage online and offline processes from one place using our fishing club management software. Book a 1-2-1 demo today, or sign up for our on-demand demo at a time that works for you.